Cornwall Fire & Rescue Service Newsdesk
Update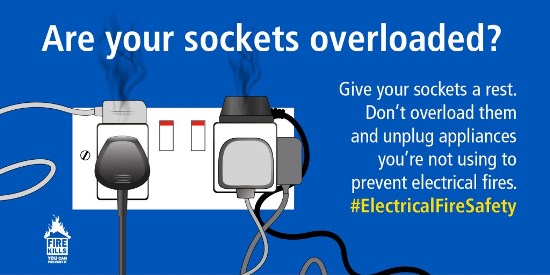 at 24/11/2017 07:00
There has been no incidents to report at this time.

As and when incidents of note occur, the Newsdesk will be updated.

Electricity is often overlooked as a possible fire hazard. This may be because there is no flame. However, some 28,000 fires in the home are reported each year as being caused by electrical faults, accidents or misuse of electrical equipment.

Did you know the average success rate of an electrical product recall in the UK is just 10-20%. This means that there are potentially millions of recalled electrical items still in UK homes. As most of these products have been recalled because they offer a risk of electric shock or electrical fire, they present a serious risk.

If you have recently brought an electrical appliance make sure you register them at www.registermyappliance.org.uk so you know about any repairs or recalls.

Visit the link below for more information and guidance around electrical fire safety.

Related item: http://bit.ly/1UzNapq
Date Posted: 06/11/2017 by Nichola Thompson
Copyright Cornwall Council 2009